In conversation with Sophie-Claire Violette, Coordinator of Mid Canterbury Newcomers Network, Ashburton
(caption for the above picture: Tanya Robinson (Ashburton Museum director) and Sophie-Claire in front of the New Faces New Lives wall)
Can you tell us a bit about the Mid-Canterbury Newcomers Network? When was it formed? What it does?
Sophie-Claire: In 2004 the Ministry of Social Development established Settling In, an initiative to help migrants settle successfully in New Zealand. As our migrant population grew in diversity and became more visible in our social landscape, it soon became apparent to the leaders of our country that it was important to understand the human, social and institutional challenges faced by the new members of our local communities as they began their new lives in various towns across New Zealand.
Isolation, the practical aspects of settling into a new community and making friends were three of the issues identified. In response, the first Settling In supported Newcomers Network was set up under the auspices of the Nelson Multicultural Council in 2006. People saw the value of the network and the idea spread throughout New Zealand. While Ashburton had actually launched a Newcomers Network in 2002; possible the first one in New Zealand, our community recognized the need to expand the reach of our network in order to better support the growing number and growing ethnic and cultural diversity of our community as a whole. Safer Ashburton; Ashburton's non-profit community organization dedicated to keeping families safe by enabling them to engage with their community, took a key leadership role in bringing the Mid Canterbury Newcomers Network up to a new level.
Over the years and through the dedicated leadership of several coordinators and the work of passionate volunteers, the Mid Canterbury Newcomers Network has grown into a dynamic, community-led and community-driven organization and developed a 300+ person strong network of friends, community contacts, cultural ambassadors and grass-roots community leaders and initiatives that contribute at different levels of community building and organising. We support newcomers who have come from all over New Zealand and the rest of the world who have chosen to settle into Mid Canterbury. We are a starting point of sorts for them. Whether they have come from Christchurch, Whangarei, India, Japan or Scotland, we help new members of our community navigate the practical aspects of moving into a new place, offer an ear, an occasional shoulder and through social events we build and strengthen our community therefore encouraging newcomers to engage with the wider Ashburton community.
Please detail your involvement with the Network since last July? What major initiatives have you undertaken? How has been the experience so far? And what motivated you to take up this role?
Sophie-Claire: I joined Safer Ashburton and the Newcomers Network in July 2016. As a newcomer to Ashburton myself, having moved to New Zealand from Mauritius in 2011 and then from Christchurch to Ashburton in 2014, I experienced first-hand the difference that these two organisations made in my own settling in experience. I had recently graduated with a degree in Politics and Anthropology and when the role came up I saw in it an opportunity to not only utilize my degree but also become an active influencer and voice in a conversation I think is very important for us to have if we want to understand who we are in relation to others and build a more cohesive and respectful community.
My role is very flexible and there is a lot of creative freedom in it. I identified five avenues which I thought I could use to strengthen our community and grow sustainably: social networking, community ownership, information, support and social critique. I organize social events which provide newcomers a space to connect and form relationships with others. I canvas the local community to encourage them to actively become part of the network, help welcome newcomers and share their local knowledge with them. I connect newcomers with information and resources which will support them in their transition. I provide general practical knowledge about the community, where to get support and also connect people other organisations which can provide further assistance in case of challenges and difficulties. Finally, I use my role as a platform to critique how we engage with newcomers and their stories as a community.
As I said before, I experienced first-hand the difference that Safer Ashburton and the Mid Canterbury Newcomers Network could do in supporting a newcomer to settle and thrive in the Ashburton. One of my biggest achievements in our community was to carry out a visual project detailing the experiences of 22 migrants who now call Ashburton home. This project, called Crossing The Bridge; culminated in a multidimensional show created in an iconic public space in Ashburton. It received great reviews and a lot of people were deeply touched by it. The Newcomers Network and Safer Ashburton were instrumental in empowering and supporting me to see it through.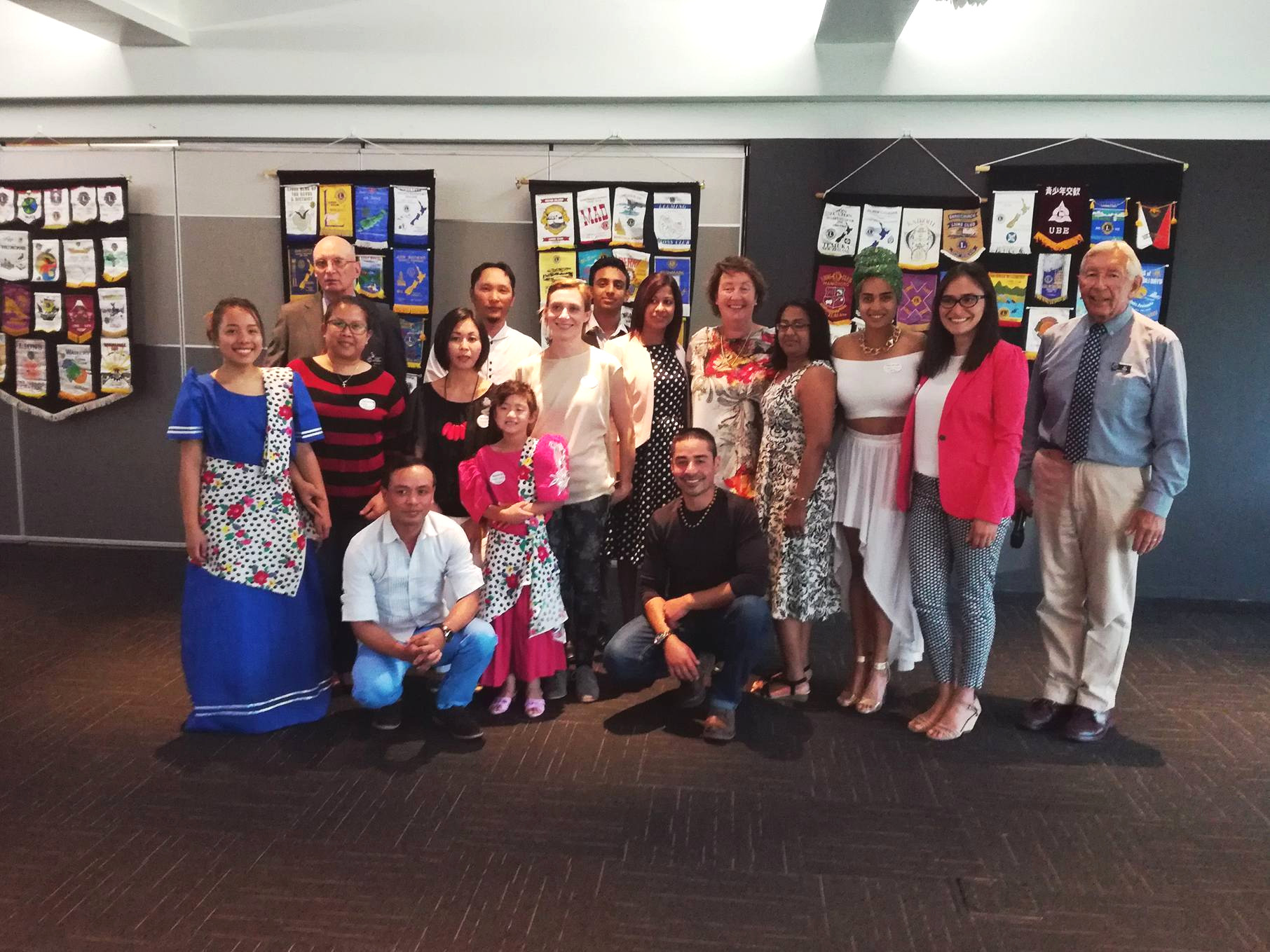 Leading the Newcomers Network however allowed me to create lower impact but more sustainable projects. Last year I facilitated a meeting of cultures and sharing of knowledge between the newly founded Ashburton Muslim Association and Hakatere Marae; the first inter-cultural event of its kind in Ashburton. We navigated the intricacies of bringing together the protocols and traditions of two cultures and were able to meet halfway to create a respectful and open space where members of both groups came as strangers and left as brothers and sisters standing shoulder to shoulder.
I also had the opportunity to work with the Ashburton District Council on a promotional campaign around "Start with A Smile", an initiative which aims to help build a welcoming environment for newcomers to the district. Last month I partnered with the Ashburton Museum on an exhibition entitled "New Faces, New Lives" which their curator launched after being inspired by Start with a Smile. This community-led show sees an exhibition previously showcasing some of Ashburton's historic faces gradually be replaced by selfies of newcomers currently living in Ashburton and contributing to changing the face of our community. This led us to inviting Speak Up – Kōrerotia, New Zealand's only human rights focused radio show to come to Ashburton to record a show in front of a live audience. We recorded a panel discussion around the human experiences of migration to rural New Zealand featuring everyday members of our community from Pakistan, the Netherlands, South Africa and New Zealand and I represented Mauritius. We shared our journeys coming and building lives here with an audience of about 60 people.
The experience for me has been very multifaceted and remains a very learning one. I am lucky to work with inspiring people on a day to day basis and learn from community movers, shakers and leaders who have a unique knowledge of the workings of our community and are very passionate about their work and their community. At the same time, I am navigating a socio-political arena which is new territory for me and seeing how the delicate balance between politics and community work is maintained through negotiation, collaboration and compromise. My role has placed me in a unique position in which I can influence the way that Ashburton looks at itself and at where it wants to be and what it wants to be in the future. While the Newcomers Network is at its core an informal social network, I have found myself able to mould it to go beyond that and become a community building tool. I hope that when I move on, I will have left the foundations of something positive here and contributed to opening up perspectives and co-creating an environment that embraces and includes cultural, ethnic, lifestyle differences and doesn't seek to put those in a box or tone them down.
Can you detail the event you organised at the Hakatere Marae last year?
Sophie-Claire: Aman means peace, security, safety and protection. AMAN also stands for the Ashburton Muslim Association, which organized itself and began its work fostering a well-connected and active Muslim community in Ashburton in 2016.
I worked with AMAN to create a holistic approach to Islamic faith and Muslim culture. Together, we discussed some of the existing cultural concerns and formulated a commitment to building bridges that acknowledged and respected the many communities and identities that coexist in our community. Last year, our sustained efforts culminated in a hui held at Hakatere Marae. This exchange of cultures was a first for Ashburton and was a symbol of AMAN's, the Newcomers Network's and the Hakatere Marae Komiti's respective commitments to develop stronger relationships between cultures and build bridges between religious and spiritual beliefs in Ashburton. First we met with members of the Hakatere Marae komiti and discussed the idea of holding a hui to officially welcome members of AMAN onto Hakatere Marae.
When we found out that this had never been done in Ashburton we realized it was necessary to discuss protocol and any cultural or religious restrictions which may arise. It took a few meetings and some research but then AMAN located a Maori interfaith facilitator who was also a Muslim and had previously organized a similar event in the North Island and obtained precious information which the Marae and AMAN then used as a basis to organise the hui.
First a brief introduction of Marae protocol was given to guests. Then the powhiri started. Michelle Brett, who is now the chair of Hakatere Marae acted as kaikarangi for the manuhiri and called the visitors onto the marae. Janet Benfell called for the Tangata Whenua. Afterwards, both AMAN and Hakatere Marae voices offfered traditional prayers and songs. Then spokesmen from both groups shared their cultures with the people present and spoke about their traditions, beliefs and cultures. Finally food was shared and the men were given a tour of the wharenui while the women learned about weaving and waiata. The members of AMAN were then welcomed as members of Hakatere Marae.
The most powerful moment of this meeting was to witness both Maori and Muslim groups discover that their cultures, beliefs and traditions had many things in common. The President of AMAN, Mohamed Diab was reported saying that even though they were from different places and nationalities they all shared the same blood and that this meeting of cultures was not just a one off event but a lifetime commitment. He said that whenever the people of Hakatere Marae need those from AMAN, the latter would be there for them, "standing side by side". This event really brought home the difference that I can make in my role and the positive impact that an organisation like the Newcomers Network can make in the lives of people and in the collective imagination of a community that is changing as fast as Ashburton.
Can you explain the idea behind the New Voices New Lives radio show?
Sophie-Claire: The idea of the New Voices New Lives radio show actually emerged from the New Faces New Lives exhibition which is currently on display at the Ashburton Museum. Tanya Robinson, the museum director had been wanting to revamp a wall of the museum which had showcased photographs of local historical figures for a while. Drawing from the "Start with a Smile" campaign and "Crossing The Bridge" exhibition she decided to open the wall up to the community. She invited migrants and newcomers living in Ashburton to send in selfies of themselves and their relatives and gradually replaced the original black and white photographs with colourful selfies of people who had come from all around the world! I thought it was a great idea and jumped in and was soon walking up and down the streets of Ashburton with my friend Lucy, with whom I worked on Crossing The Bridge; to take photos of people and record their journeys coming here.
It is during one of our brainstorming sessions that I proposed inviting Sally Carlton, who runs Speak Up – Kōrerotia and whom I had been working with on my newsletter; to bring her show to Ashburton. Sally liked the idea. We wanted to tie the show in with the exhibition and it is thus that the name "New Voices, New Lives" came about. The concept was Sally's and it would be her second show recorded in front of a live audience. We sought out to find a panel of guest speakers from our community to share their own experiences of migration and settling in with the audience and were very lucky to end up with great people whom individually, had been contributing very positively to our community and together painted a very rich picture of our changing community.
On the day we started the show in front of a room at full capacity! First we shared our backgrounds; who we were, where we had come from and why we had chosen to come to New Zealand and settle in Ashburton. Then we discussed how the identity of our town has changed as more people from more and more different countries and ethnic and cultural backgrounds have moved here; bringing with them new perspectives, a vast array of lifestyles, values and beliefs. I don't want to say too much as the show has just been released on Plains FM so I invite everyone reading this interview to either jump on the Speak Up – Kōrerotia Facebook page or on the Plains FM website and look it up!
- All pictures in this story are courtesy Sophie-Claire.