Lord Buddha's Birthday Celebrations in Christchurch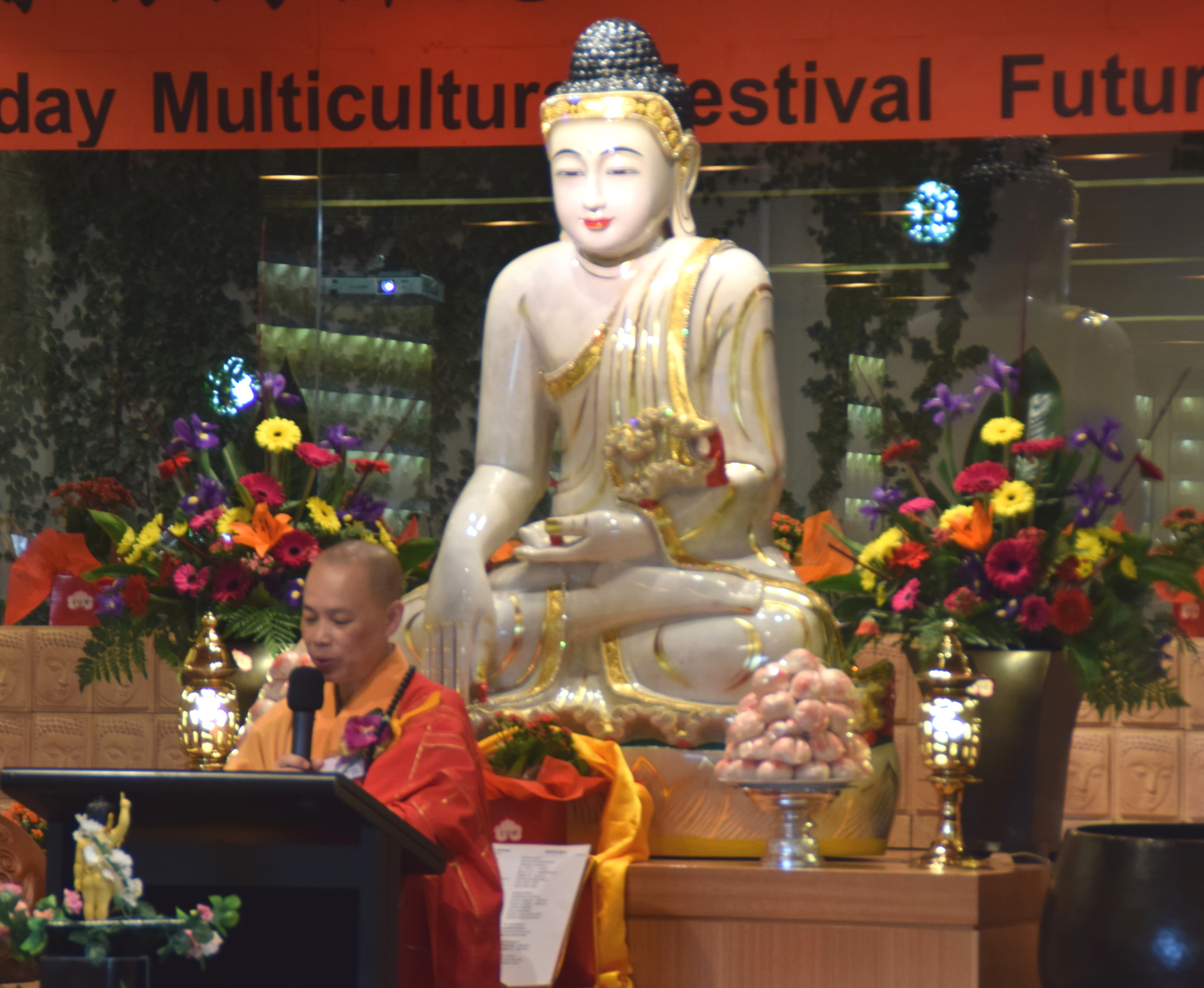 Co-organised by the Buddha's Light International Association (BLIA) South Island NZ and Fo Guang Shan Buddhist Temple (FGSBT) South Island, the residents of Christchurch were introduced to the ideals of Humanistic Buddhism at the Buddha's Birthday Festival Future & Hope Prayer Ceremony at FGSBT on May 14.
Whether it was the Prayer of Many Faiths – in which representatives of Islam, Hinduism, Christianity and Buddhism recited prayers in praise of God almighty – or Jin Zhijian, Consul-General of China in Christchurch, praising BLIA's efforts in promoting the Chinese and Buddhist culture. It was a day of celebrating a life whose values and truths surpass religion, race or political differences.
"If you look at our founder, Master Hsing Yun's work in China in just over the last year, whether it was at the World Buddhist Forum in Wuxi, or at Baao Asian Forum, or at the Vegetarian Expo, you will find that BLIA has always tried to build bridges between humanity," said See Shen Lee, President, BLIA South Island.
"This is exactly what Buddha taught us. That's why it doesn't matter whether you are from China, Taiwan, Hong Kong or Macau. Buddhism is always a common thread everyone agrees on," added Zhijian.
Explaining the concept of humanistic Buddhism further, Venerable Man Shin, Abbess of FGSBT NZ noted, "It is cultivating one's compassion through daily practice. When we actualize altruism, joyfulness, and universality, we are practising the fundamental concepts of Humanistic Buddhism."
Similar sentiments were expressed by Inspector Rakesh Naidoo, Strategic Advisor of Human Rights Commission, who added, "The inter-faith ceremony that we witnessed here is indicative of a New Zealand, which encompasses a diverse range of culture and religion. And we, at Human Rights Commission, are always at hand to play an enabling role in this regard."
The celebrations for Buddha's birthday also included tea meditation, multicultural performances, vegetarian stalls, baby blessing ceremony, sutra transcription, and bath the Buddha depiction.
Fo Guang Shan and BLIA
Grand Master Hsing Yun is the founder of the Fo Guang Shan International Buddhist Order, which promotes Humanistic Buddhism. Born in 1927 in Jiangsu in China, Yun moved to Taiwan during the Cultural Revolution where he started the Order. He also founded Buddha's Light International Association (BLIA) in 1992.
Siddartha – the Musical
To mark Lord Buddha's birthday as well as reopening of Fo Guang Shan Buddhist temple in Christchurch after three years of repairs, Siddhartha – the Musical, was performed at Isaac Theatre Royal on May 10. Adapted from the book, The Biography of Sakyamuni Buddha, written by Venerable Master Hsing Yun in 1950, the musical depicts the life of Buddha, from his birth to enlightenment.